Covid 19 Update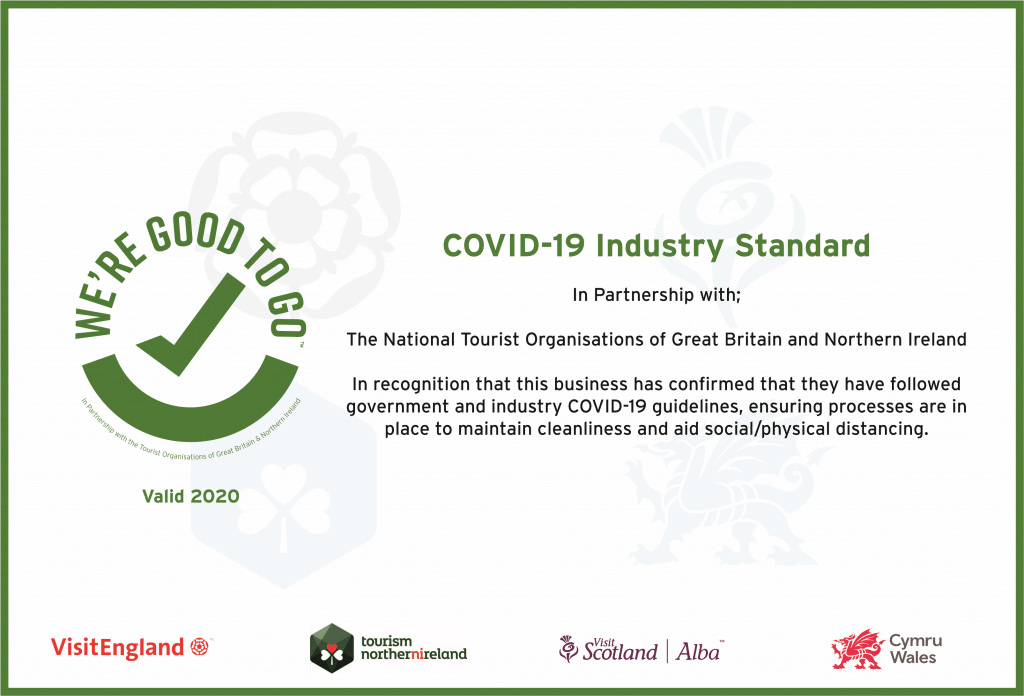 We have been working hard to ensure that the lodges at Woodend of Glassel are as safe as possible, according to government and tourist industry guidelines.
We have complied with all the requirements, the risk assessment is in place and we have introduced new levels of cleaning, disinfecting and sanitising.
We will observe strict social distancing and ask that you also comply with the current guidelines.
To that effect, we have been awarded the VisitBritain 'Good to Go' tourist industry award and will continue to make your stay as safe and stress free as possible.
We have developed new ways of cleaning & preparing the lodges to ensure that we achieve the covid secure accreditation and you can be assured that we have thought through the risks and changed the way we work.
Check in is contactless and you will access the key to your lodge via the key box to the right of your front door. If we pop 'round to greet you during your stay we won't enter the lodge and we will keep our distance.
Recognising that you may wish to clean more or disinfect over the course of your stay we have added a wall mounted hand sanitiser in the lodge and are providing paper towels and professional standard disinfectant spray for your use. This product is non toxic and can be safely used on the surfaces in the lodge (please don't take it home with you as it is will be refilled and sanitised for the next guests).
The lodge will have been thoroughly cleaned and then disinfected/sanitised before your arrival; our housekeepers wear ppe whilst they clean and prepare your lodge and have been trained in the new way of working.
In the kitchen all items will be washed between each guest, and we have had to take some of the kitchen items out but hopefully it won't be forever.
As the washing machine and tumble drier are in our communal laundry room they unfortunately won't be available during your stay as shared facilities are not permitted. We do apologise for any inconvenience this may cause.
We do need to keep a record of all guests who stay so will ask you to provide that information shortly before arrival, it will only be kept for the required 21 days and then destroyed.
If you develop symptoms – we sincerely hope that you will have a happy and healthy holiday. However, should a member of your party develop symptoms, Scottish Government guidance states that:
In the event that a guest develops symptoms whilst staying away from home, they should immediately book a test through NHS Inform
https://www.nhsinform.scot/self-help-guides/self-help-guide-access-to-testing-forcoronavirus
or, if they can't get online, by phoning 0800 028 2816.
In accordance with Test and Protect,
https://www.nhsinform.scot/campaigns/testand-protect
people with symptoms are required to self-isolate for at least 7 days, and everyone in their household should isolate for 14 days. If the test is negative, everyone can end isolation. If the test is positive, everyone should continue to isolate, and the NHS Test and Protect team will be in touch to start contact tracing.
Those contacted through the Test and Protect programme will be required to self-isolate for at least 14 days. If guests who are isolating can travel home safely to isolate, avoiding the use of public transport, they should do this. In the event that this is not possible, the guest should discuss this with the NHS Test and Protect team. The guest may be signposted to the National Assistance Helpline on 0800 111 4000 if they need help to isolate and cannot arrange it themselves or through friends and family. In some circumstances further discussion may be required with the local Health Protection Team and local authority to ensure that the person has suitable accommodation to isolate safely and effectively.
Should any member of your party have to self-isolate at the lodges then unfortunately you will have to pay for all bookings that have to be cancelled as a result.
After the required period of self-isolation, guests and anyone else in their party who has been affected can then return to their main place of residence.
https://www.gov.scot/publications/coronavirus-covid-19-tourism-and-hospitality-sector-guidance/
Please let us know immediately if you develop symptoms, as the cleaning protocols for the cottages are then different.
Please fill the dishwasher with a full load of crockery and cutlery and set it running before leaving (do not empty it). We are now required to re-wash everything between guests, so it would help hugely if you could put all plates, cutlery, mugs etc in the dishwasher before leaving, not just your breakfast things.
We do need to keep a record of all guests who stay so will ask you to provide that information shortly before arrival, it will only be kept for the required 21 days and then destroyed.
Please Strip your Beds before leaving – not glamorous, on the last day of your holiday, we know. The main route for contracting the virus is airborne, and it is considered that removing bedding could make the virus airborne, which is why the advice is to ask guests to strip the beds themselves. We will leave three laundry bags outside the lodge the night before your departure. Please place bedding in one, mattress and pillow protectors in another and towels and bath mats in the third.
Please leave all three bags by the front door before you leave.
Please empty all bins (including bathroom bins) and put into the outside bins.
We hope that you will have a fabulous holiday. The "new normal" may be slightly different than what we are all used to, but it is great to be able to get away again, and if we all take responsibility for minimising risk, then hopefully we won't get locked down again.
If you have any questions please don't hesitate to get in touch by email lodges@woodendofglassel.co.uk or by calling Ursula on 07715 449075.
Use our booking calendar below to find the ideal start date for your stay.
The booking calendar is just loading..